Deon Cole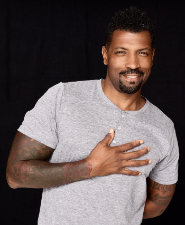 Deon Cole is one of the most in-demand talents on the comedy scene. Not only is he currently a cast member on four hit TV shows, he has also appeared in several popular feature films, released multiple standup specials, and follows a non-stop tour schedule. Armed with a "comic authority born of undeniable charisma" (AV Club), Deon's completely unique style and delivery have made him a wildly popular performer with fans and critics alike.
Deon plays the character of adjunct college professor "Charlie" on ABC's hit series "Black-ish." His role on the Emmy-nominated and Golden Globe Award winning show, now in its fourth season, is a favorite, with Vulture declaring "Deon Cole is a comedic genius," AV Club naming him a "scene stealer," and Variety offering "Cole reminds me of John Belushi, another performer who brought essential sweetness to his unpredictable characters, and who could make you laugh just by looking a certain way at another person on screen." In January 2018 Deon brought the beloved "Charlie" to Freeform in the "Black-ish" spinoff series "Grown-ish."
Deon also stars as "Det. Daniel "DJ" Tanner" on the TBS comedy Angie Tribeca. The popular show, created by Steve and Nancy Carell, also stars Rashida Jones and is currently in its fourth season. In addition to his three scripted shows, Deon hosts the game show "Face Value" currently airing on BET. The show, Executive Produced by Wanda Sykes, finally answers the age-old question, "Can you judge a book by its cover?" "Face Value" flips the script to award cash and prizes to contestants for correctly guessing facts about strangers from all walks of life – based solely on their appearance and a few personal details. As host, Deon humorously breaks down stereotypes, exposes prejudices and celebrates the human spirit by highlighting the commonalities and differences among people of various backgrounds, races, religions, beliefs and life experiences.
In addition, Deon will appear in the Whitney Cummings directed film "The Female Brian." Fellow cast members of the much-anticipated feature include Toby Kebbell, Beanie Feldstein, Cecily Strong, Sofia Vergara, Blake Griffin, Lucy Punch and James Marsden. He has also been featured on several other comedy fan-favorite series including Benched (USA), The League (FX), and Wild N' Out with Nick Cannon (MTV), Conan (TBS), @midnight (Comedy Central), Last Call with Carson Daly (NBC), The Talk (CBS) and The Real (BET).
Deon performs standup to sold out audiences at venues across the country. He is originally from the south side of Chicago and currently lives in Los Angeles. Visit: http://deoncole.com/.