The Kates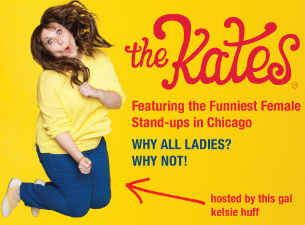 the kates bio/mission:
the kates provide an intimate night of comedy different from anything you'll see at a typical Chicago club or late night bar.
the kates mission is to showcase talented and hilarious female identified performers by creating inclusive and positive environments; This encourages artists to express their comic point of view in unique and non-apologetic ways - From darkly amusing musical numbers, storytelling, the awkward art of clowning, absurd solo performances, and uproarious stand-up comedy, the kates continue to crack up new audiences and ensure that loyal fans come back for more! the kates provides unique opportunities to ladies in comedy, and showcases talent from all backgrounds, perspectives, and cities around the US proving that women are equal in the eyes of comedy.
Kelsie Huff (creator and host bio)
Kelsie Huff is a Columbia College Chicago graduate turned stand-up and storyteller. She's the creator and host of the kates, a ten year monthly comedy showcase, hosted by The Book Cellar and Laugh Factory Chicago. She taught Feminine Comique for five years and has now created the kates U - an all female comedy university specializing in making spaces for female identified voices. Kelsie performs at clubs all around the Midwest, as well as comedy and fringe festivals around the country. She is a regular guest on ABC's Windy City LIVE, You and Me on the U and WGN radio. Huff has written four solo shows, is a short film producer, screenwriter and voice over actor. Huff is also a fan of frosting and Cheese Whiz.